Products
We manufacture products that require printing on different kinds of materials:
Textiles
Paper
Wood
Ceramics
Our main products are:
Pennants
Flags
Banners and signs
Curtains, screen facades, napery
Towels, scarfs, neckwear, banding
Stickers, emblems
Paper printing (folders, calling cards, flyers, brochures, books)
Clothing (advertising and sports clothing, T-shirts, cycling shirts, clothing for work and leisure, hats)
Mugs
Pennants
There are several kinds of pennants we manufacture:
Desk pennant – a fancy-looking pennant with stand. Usually decorated with ribbon and tassels or fringes.
Souvenir pennant – a smaller pennant suitable for handing out at events. A memento for guests and participants.
Pole pennant – so that flag poles would not stand empty.
Desk pennants and souvenir pennants are our main products. Therefore we have dedicated an entire web site for them:
Below are some examples of our work. A longer list is provided in portfolio section at pennants.eu.
Flags
We manufacture several kinds of flags:
Country flags
Business flags
Pole flags
Rod flags
Desk flags
Hand flags
Car flags
Some desk flags and packagings:
Desk flags can also be made two-sided, so that different sides have different designs: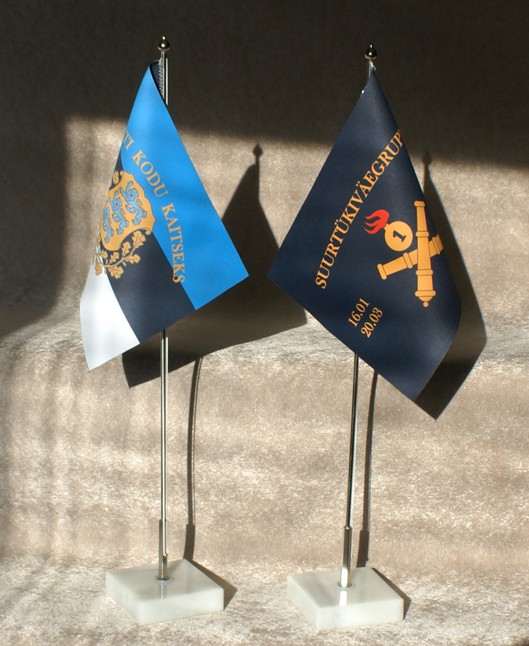 Stands and rods
We offer stands and rods for flags and pennants.
A rod for car flag: